Webmaster:
Robert R. Brown
irenebennettbrown@gmail.com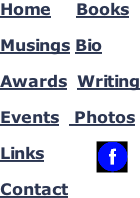 Eighteen-year-old Bryn Kinney knows nothing about her family. She doesn't know for sure that the woman who raised her--the woman she called Gram--was really her grandmother. When Gram dies, Bryn learns some startling news: someone has been sending her money since she was a baby. It was money Gram and she could have really used, but Gram just put it away. Now it is Bryn's to use to trace her past.
An excellent portrayal of a young woman's search for her true identity, a compelling story with just the right elements of mystery and romance.
--Southwestern Ohio Young Adult Materials Review
Very well done. Quick interesting characters keep this book moving right along.
--School Library Journal.
Irene's first book, reissued as an easy-reader after a 30-year absence.
A Cover-to-Cover novel from Perfection Learning
A 1935 dust-bowl saga of the Baldwin family's trip across a depression-torn country, telling of thirteen-year-old Cotton's painful growth into manhood and his family's proud determination to begin a new life.
Look--the Rocky Mountains, Mama announced.
Grandma opened the door and climbed out. She bent low and shaded her eyes. She stared in the direction of the high, snowy peaks. Might as well be clouds, she predicted. We' ll never get over them!
"--an impression more vivid than that offered by factual pages, but it would short-change the lively story to stress its usefulness alone."
--Catholic School Journal
"A grand story for all readers. Highly recommended."
--Spokane Public Schools
"An exciting picture of the years around 1935 and of a fine family who come through almost impossible difficulties."
--Edith Webber, WHO Radio Review,
Des Moines, Iowa
For Children ages 8 to 12